An intro to Spotify Ad Studio: from set-up to moment-based targeting
Jesse Coleman
Spotify's uniqueness for advertisers lies in two things:
Making it as easy as possible for advertisers to get started with audio ads
Its streaming intelligence that reveals users' moods, moments, and mindsets
The first step made easy (and free)
Our advertising revolves around the principle of Test & Learn. By making it as easy as possible to launch an initial test – and therefore effectively gauge how it will perform for your brand – Spotify Ad Studio aligns with that principle nicely. It does this primarily by relieving as much of the initial creative burden from brands as possible.
First, you tell them what you want the ad to say and how it should sound. Choose from a range of voice artists, their language, their tone, their accent, and then choose the most cogent background music from their library of tracks (recorded by independent artists).
Second, your choices are sent off and the voiceover is recorded at no extra charge. The voiceover is mixed with the music and the ad is produced. It's worth emphasizing: this comes completely free.
Finally, the ad is sent to you for approval – or for you to reject or make changes. Once complete, it's then ready to be released into the wild.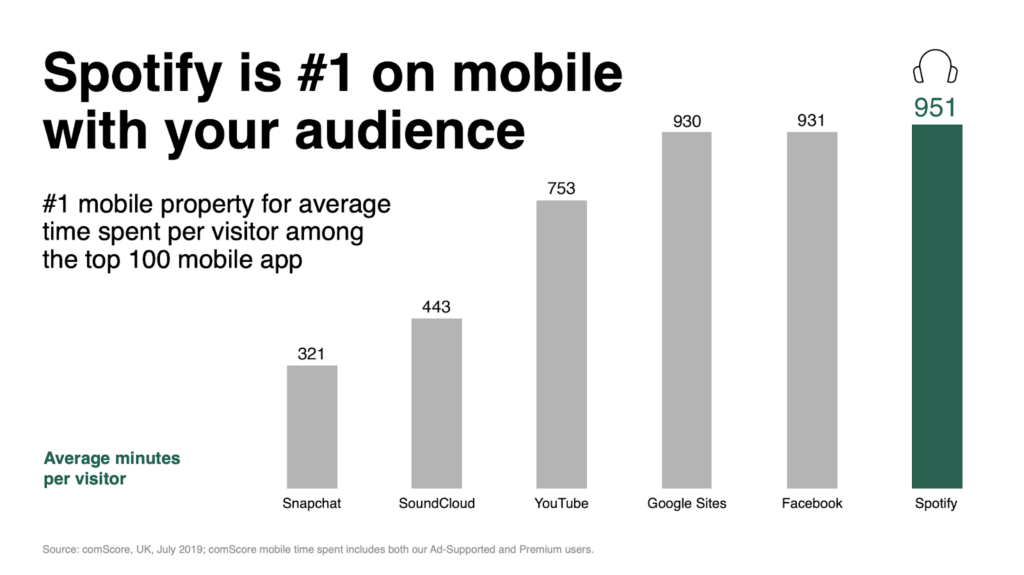 Moods, moments, and mindsets
Which brings us to Spotify's second core strength: targeting.
Now, granular targeting is of course a feature of almost all digital marketing channels & platforms. Spotify naturally has the standard Age, Gender, and Location capabilities. It can also target based upon Income and Social Status. However, where the platform starts to show its power is its Interests-based targeting derived from individual users' choice of podcasts, playlists, and platform preferences. It then shows its uniqueness as a platform in that you can reach listeners as they soundtrack specific moments throughout their day.
Extensive psychological research – and likely your own personal experiences – confirms that events that happen during heightened states of emotion are significantly more memorable. The music you are listening to both reflects and affects your mindset & mood. All advertisers want their ads to be remembered and recalled: through Spotify we can target users immediately after listening to a specific genre of music, and associate our brand with that emotion:
Users associating their favourite beer with Party playlists.
Associating Food Delivery Services with Cooking playlists.
Travel or Experience providers with Holiday playlists.
Newspapers with Study playlists.
Bedding & Blankets with (Netflix &) Chill playlists….
The variety & capability you'd expect from an industry leader
The platform comes with a ton of other useful features that you would expect from the world's leading music streaming service:
reports on ad delivery broken down by audience metrics
sequential messaging for more strategic campaigns
custom Audience Match to reach users already on your CRM lists
the ability to bid on Device IDs you recognise to target your known customers on mobile.
There is also the option for video ads. Users can opt-in for a Sponsored Session, which means that in exchange for focusing on your brand's video ad, they'll unlock 30 minutes of ad-free listening. Competition for users' attention is a core marketing battleground, so gaining undivided access to a user's attention – time that they have actively chosen to give to an advert – is a potent tool in your toolkit.
It's only up from here
Spotify is a household name for a reason. It's a robust platform for both users and advertisers, and its impressive, continual growth reflects this. With its expansion into podcasts, (for example its partnership with The Joe Rogan Experience will make the show exclusive to Spotify) will only further attract a diverse range of audiences. An interesting area to watch will be how different targetable audiences will shift between moods and moment as COVID-19 lockdowns end around the world. The company initially saw usage decline in cars, wearables, and web platforms but almost 50% increases in usage through television and gaming consoles. It seems likely that fun-loving summer playlists will see a sharp uptick as people spend more time outdoors as the year progresses.

For advertisers specifically, the platform is promising 2020 will deliver:
More tools to build more automated creatives
Additional Campaign management functionality
Deeper audience and performance insights
It's a great time to jump on board!