You had me at First-Party Data: How rom-coms teach us the importance of getting to know those closest to us
Paul Myers
It's Valentine's day and love is in the air… But so is a life-threatening virus, so maybe best to stay inside, grab some snacks and cosy-up in front of your favourite rom-com to learn all about the importance of first-party data.
Sorry, what was that last bit?
Yep, you read that right. Beneath the hurt, the drama, the longing, rejection, rekindling, and rejoicing of rom-coms, there always lies a lesson – not necessarily in love, but one in data management.  
Tell me more, mon amour.
OK, so… call me unromantic, but my theory is that most rom-coms could be finished in half the time if the protagonist(s) would just properly consider the data they have at their fingertips.
Let's look at some typical rom-com tropes for evidence:
Exhibit A: The one where they hate each other at first, but they get to know each other and eventually fall in love.
Examples: When Harry Met Sally, La La Land, 10 Things I Hate About You. The Ugly Truth, You've Got Mail
On the surface this was just not meant to be: maybe the product and the consumer demand don't seem to match? 
But consult the data and maybe you'll find that there's something along that journey that needs to be tweaked to make the course of true love run smoother, some extra information perhaps to increase the relevance and bingo! It's a love match. Faster than you can say Hugh Grant.
Exhibit B: The one where love blossoms between people who are seemingly from different worlds
Examples: Notting Hill, Pretty Woman, As Good As it Gets, Enchanted, Splash
In rom-coms this always happens by accident, whether it's Julia Roberts walking into a travel bookshop or Julia Roberts being picked up on a street corner. 
But with better use of data, we can intentionally create these 'accidents' by personalising experience for different sets of consumers – serving the right ads or highlighting a promotion at the right time to the right people.
It's the key to expanding your customer base, and it could have cut 500 Days of Summer down to a couple of weeks in July.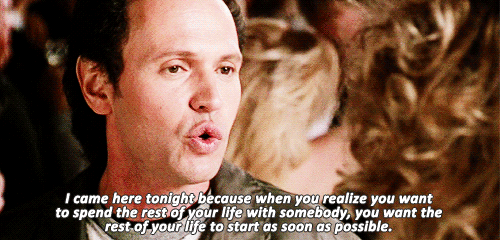 Exhibit C: The one where 'the one' was right under their nose the whole time
Examples: Clueless, Sixteen Candles, 13 Going on 30, Just Friends, While You Were Sleeping  
Yes, yes, yes I know – love is blind. But I ask you to look at the data: it's right there in front of you.
These are the ones at the bottom of the funnel ready to convert. They just need to know you feel the same way about them. Maybe they're your latent customers who just need to be reminded you're there for them, or those who need an email with a discount code to finally see the light. 
To misquote Notting Hill: They're just a consumer standing in front of a product or service asking you to love them.
Exhibit D: The one where they go for the wrong person, learn a harsh lesson, and see the error of their ways
Examples: Bridget Jones' Diary, The Wedding Singer, Sweet Home Alabama
It's sometimes easy to read the data wrong especially when everyone and everything points to true love. Trusting in other people is hard when you're talking about matters of the heart and matters of data. 
Know how to spot unreliable third-party data, however tempting it may look. You might optimize for leads based on third-party tracking, but in reality you find the leads you're driving are low quality. Connecting first-party data will show you how those leads go on to convert so you can focus on the ones that are higher value.
So no more fuzzy logic, just that warm fuzzy feeling you get when you've found the one.
I rest my case.
So this Valentine's day, forget flowers, chocolates, or candles and make a meaningful connection with your loved one with the gift of a properly thought-out data management strategy.
It'll save a lot of heartache in the long run.
If you need some more data love in your life or want to learn 'How not to lose your data in 10 days', take a look at our Data Privacy Course for Senior Marketers led by Mark Syal, Brainlabs' answer to Hugh Grant.