How to make TikTok ad placements work for your brand
Leo Balkwill
For a long time now, we've seen the successful adoption of TikTok by clients in all sorts of verticals.
Getting a quick grasp of the different placements available is super useful for putting together a media plan, so today I'm putting my digital pen to paper and talking a little bit about the nuances of each placement that's available on their platform.
At the time of writing, TikTok has a total of four placements available through either their self-serve platform or by purchasing from a TikTok account rep.
TikTok Placements
With four placements to choose from, there's bound to be a placement for your objective. Three of them lend themselves well to awareness and consideration campaigns, while In-Feed Video covers your direct action activity.
1. In-Feed Video
In-Feed Video is currently the only placement purchasable through the self-serve platform. However, we're in the loop of some beta and even alpha placements that could be launching in the not too distant future, so watch this space.
Comparable to Facebook's in-stream placement, the In-Feed Video placement appears on the 'For You' page. Just like all videos in this feed, in-feed video ads are vertical, full-screen with sound on, and start playing automatically. These videos should be 5-60 seconds long.
2. Top View
TikTok's Top-View allows advertisers to be the first piece of content that a user sees with a full-screen creative. The placement is purchased nationwide (i.e. no-geo targeting) but ensures millions of views within a 24 hour period.
Though this placement is a fantastic tool for brand awareness, the format is fully clickable through to internal or external landing pages with trackable conversions.
Furthermore, TikTok has enabled advertisers to upload multiple creatives for the single placement, ensuring users don't watch the same video each time they open the app. Your chosen creative can be a video 5-60 seconds in length, with sound on.
Note that this format isn't available through TikTok's self-serve platform so needs to be reserved with a TikTok rep. If you're interested in purchasing this placement, feel free to reach out to us.
3. Hashtag Challenge
We've recently been featured in the media for our successful use of this placement with Pret A Manger, with 2.2bn views generated at the time of writing. This placement worked well for that campaign because it's the most engaging ad format available on TikTok.
By launching a Hashtag Challenge, a given brand invites TikTok's creator community to make and share their own videos inspired by the challenge page. The hashtag challenge page is linked to via user-generated content (UGC), an In-Feed Video Ad, and a TopView ad which are typically included in the bundle when purchased from TikTok.
This then becomes an excellent opportunity to use TikTok's self-serve influencer marketing platform, TikTok Creator Marketplace. It's the official platform for brand and creator collaborations on TikTok and can be used to bolster a hashtag challenge campaign by ensuring the tag gets off to a start with some instantly popular content.
4. Branded Effect (Augmented Reality AR)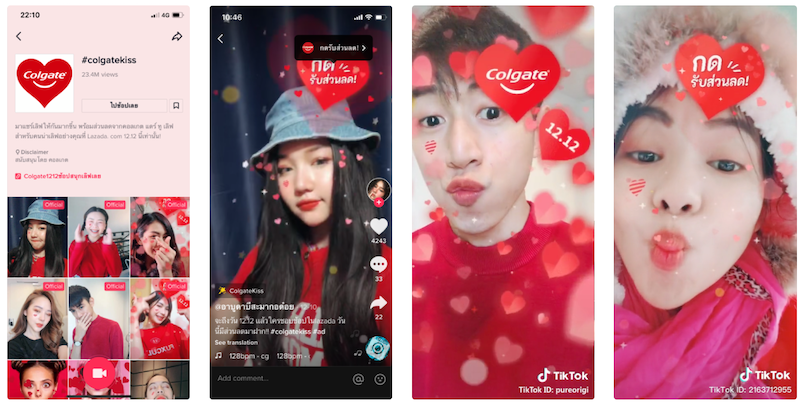 Love them or loathe them, filters are here to stay, so why not get people using ones that promote your brand? There are a few great examples of these being used by brands at the start of this tutorial on how to make your own filter for Facebook and Instagram, and the principle is the same with TikTok.
Branded Effects enable deeper creative engagement with the TikTok community. With bespoke 2D, 3D, and AR effects, brands can give creators a tool to play with and create their own UGC. As with other platforms, effects can be triggered by unique gestures like a hand wave or an open mouth. You can also add a CTA to the Effect, inviting users to swipe up and visit your website, download your app, watch the full video, or go to a hashtag challenge page.
Final thoughts
Without wanting to reveal too much about how to deliver a remarkable TikTok campaign hopefully you can start to see how each placement works well with each other to create a full-funnel experience within the app.
According to TikTok, the app is not another social network but rather an entertainment platform. As such, adverts are unlikely to work if they're a mere "cut-and-paste" from pre-existing creatives. Amongst a sea of user-generated content, ad campaigns can provide immersive and engaging experiences. Hopefully, this article gives you an idea of how each of TikTok's placements might work for your brand.