Squarespace SEO for people who don't know SEO
Grace Frohlich
I can't tell you how many people I know who have built or want to build their own site. These are regular people with basic computer skills, not web developer experts. One of the most user-friendly web builders available is Squarespace.
According to Builtwith.com, Squarespace hosts over 1.9 million live websites. Recently they've been making a big publicity push, even landing a Superbowl commercial. This past year Squarespace posted an extensive SEO user guide about their built-in functions and how to best utilize each one, making their platform great for SEO. However, this is assuming that the users know what SEO is and how to implement it.
I recognized this problem and decided to write this post. In it, I define the many Squarespace specific words and terms, what they mean as pertains to SEO, and how to best use them. For anyone looking to improve their Squarespace website visibility, improve user experience, or wanting a better understanding of SEO, this post should help.
Squarespace SEO: Contents
I would like to note that I am not affiliated in any way with Squarespace. My goal is to help users better understand the platform and general SEO knowledge.
How to Use Keywords for Squarespace SEO
To help your website rank, use keywords in your site title, headings and descriptions. Below I go more in-depth about how to do this, specifically in Squarespace. If you're already familiar with the importance of SEO keywords and usage, feel free to skip to the section on SEO titles.
Keywords & Ranking
One of the most important SEO tools are keywords, which are words and phrases that searchers enter into Google or other search engines. Keywords that you type into search bar are also called "search queries". These words and phrases should be researched and planned out for the pages that you want to appear in search results. For a step-by-step keyword research strategy, check out Moz's Keyword Research guide.
Keywords are a big contributor to whether you show up in search results, or "ranking". If you use accurate, well-researched keywords on your website, it greatly increases the chances of ranking for the keywords used.
Also, keep in mind, you should use different or unique keywords for each page of your website to avoid competition between your pages. For example, if your website sells custom T-shirts and you want to rank for the keyword "custom T-shirts", the best practice is to choose one page (usually the homepage) for that primary keyword. Then assign other keywords to the other pages. If you have a page for women's T-shirts, you could use the keyword "women's custom T-shirts" for that page.
Keyword Research
When researching keywords, sometimes it's difficult to know which ones will rank and how often a keyword is searched. The search volume (SV) is the frequency that a keyword is used in a query, typically calculated by the number of searches per month. The more often a keyword is used per month, the higher the SV and, usually, the more competitive the keyword.
A good place to start when researching keywords is typing in queries into the search bar to see what pops up. Using our custom T-shirt example, some suggested terms will appear when you start typing into the search bar. This is a good indication of whether searchers are using specific keywords.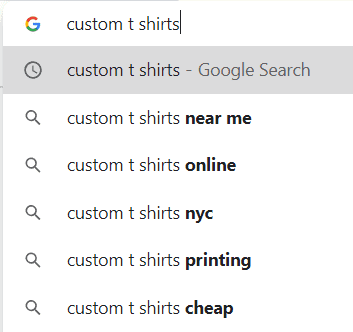 Another tool to use is the related searches section at the bottom of a results page. When you type in "custom t shirts", scroll to the bottom of the first page and you'll see a list of other related terms. These are other keywords related to your primary keyword that you can consider using.
If you're still unsure whether to use a certain word for phrase, ask yourself two questions: 1) is this keyword relevant to my page content? and 2) would a searcher use this term if they want to find my website? Often times thinking like the searcher can help you decide which keywords to use.
For other free tools that you can use, check out these keyword research tools on ahrefs.com.
SEO Titles, Site Titles, Page Titles, Oh My!
In Squarespace, the "site title", "SEO title" and "page title" have different functions and appear on-page, in browser tabs, and on the search results page. To understand the differences, we must first talk about "title tags".
Title tags are an SEO term. They are HTML elements that indicate to search engines the title of a webpage. The searcher sees them as the blue text in search results. 
Site Titles
In Squarespace, the "site title" is the name of your website, and appears at the top of your homepage. It also appears on the browser tab and search results page. The site title is your default title tag for your homepage.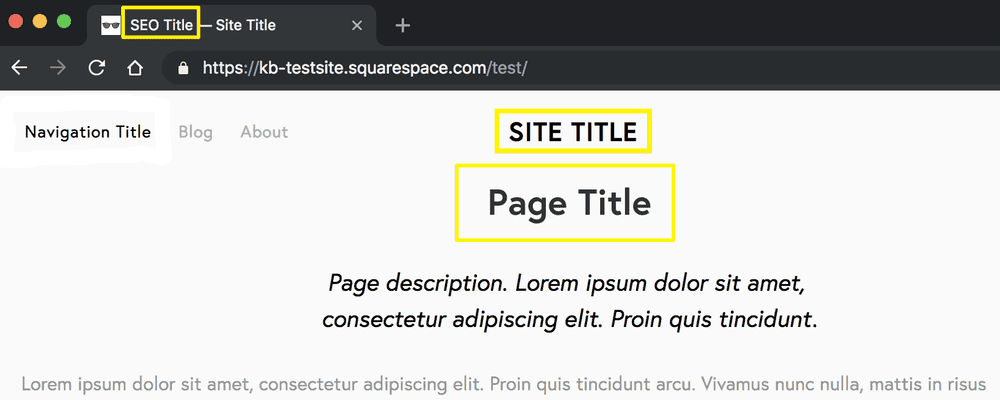 It's important to note that SEO does not differentiate between title tags by page type because they all function the same way. However, SS probably makes this distinction to make it more approachable for their users.
Let's use an example. Our friends at bonjourbitchesblog.com use Squarespace to host their website, and they have agreed to let us analyze their basic SEO features. "Bonjour, bitches" is a pop culture, style and humor blog website. Their current site title reads "bonjour, bitches", so their default site title comes up in search results as below.
SEO Titles
You can add a separate "SEO title", which as the name implies, is for SEO purposes. If you add an alternate title here, it shows up on the browser tab and in search results. In this case, the SEO title becomes the title tag for that page.
Why should you add an SEO title to your pages? This is where keywords come into play. Using well-research keywords in the title tag can 1) help the website show up in search results, and 2) increase likelihood of searchers clicking on the page.
Using keywords in the SEO title signals the search engine what the website is about. We'll do a quick keyword search for "bonjour, bitches" website to see what they could use as their primary keyword. When we type in "pop culture blog" into Google some potential keywords show in the search suggestions and related searches. From these, we can get a better sense of what searchers might use as search queries.
SEO titles also help searchers understand what a webpage contains. If the site title remains unchanged, visitors who are unfamiliar with the "bonjour,bitches" brand won't know what the website is about, which means they will less likely click on their link. But if we use keywords in the SEO title it will help searchers understand the website content.
If we change the SEO title to "Pop Culture, Style & Humor Blog | bonjour bitches", searchers will see the below in the results page. They will have a better sense of what to expect when they click on the link.
Page Titles
In SEO, page titles and site titles (title tags) are synonymous. In Squarespace, page titles are the titles that show on each page of your website (not to be confused with "on-page titles" or more commonly known in SEO as "heading 1" or "header 1", which we will discuss further below).
On the Squarespace website, they explain that "some templates" will display page titles, and if you do not add an SEO title then the default page title appears in the browser tab and search results. As previously discussed, if you want different text to show on page versus search results, then you have to manually change it.
Heading Tags
We mentioned on-page titles earlier, which in SEO has a different name: "heading 1" or "header 1" (h1). SS also has a headings function that their users can customize on-page. They briefly explain heading tags and why it's important for SEO, but their users also have to know to add this function. I would postulate that many SS users, especially ones with little SEO experience, don't know they should do this, which is why this point is so important. Heading tags, especially h1 tags, are crucial for better visitor experience and help improve your website ranking.
Let me explain a little bit about how h1 tags work. When you add a heading 1 (h1) on your webpage, the site visitor will see it as an on-page "title", because it's usually at the top of the page with the most prominent or bolded text. Search engines see a corresponding <h1> HTML code in the website's source code, with the same h1 text that's on-page. Essentially, both the visitor and search engine see the same h1 for that page, but in different formats.
Keeping this in mind, it's best practice to have a keyword-rich, unique h1 for each page of your website. If you have the same or similar h1 tags for multiple pages, the search engine will be confused about which page matches the visitor query best, which means your pages will be competing with each other.
How to Add Heading 1 in Squarespace
To add h1 tags in Squarespace you will have to go into each page and change the formatting of the on-page text. Yes, this can be a lot of manual work, but keep in mind that you most likely will only do this once for each page, and every new page you add to your website.
An important thing to note is that many of Squarespace website templates have built-in heading tag features. This means that when you fill in on-page content like site titles and blog post titles, it will automatically generate h1 tags for you. However, not all templates do this, and SS provides a table of which template families are the exceptions.
Using our example again, the "bonjour, bitches" website uses the "Skye" template. Unfortunately we can see that Skye is NOT one of the templates that automatically generates h1 tags. The site title on the homepage does not create an h1 tag, which means you have to manually add one to the page.
For individual blog pages on the website, the Skye template will generate h2 tags from the on-page titles. This isn't necessarily bad for SEO, but search engines deem <h1> more important than <h2>. Think of it this way: if the webpage were a book, the h1 is the book title and the h2 is a chapter title within that book. The search engine sees that h2 tag without any context, so it's much harder to understand what the webpage is about.
The key takeaway here is this: if your Squarespace template does not have built-in h1 tags, then you should manually insert them on each page. Or, if you haven't decided on a template yet, choose one that has built-in h1 tags to make your life easier.
SEO Site Descriptions and Page Descriptions
Squarespace uses the terms "SEO site description" and "SEO description" to talk about that short description you see in search results underneath the title tag. In SEO this is called a "meta description". Meta descriptions are good for SEO because it affects the click-through-rate for your website, which indirectly affects how well you rank.
Click-through-rate (CTR) is a percentage of how often a link is clicked on when it appears in search results. Web pages that have a high CTR signal to search engines that the page is highly relevant to the search query, which means it will rank higher.
From a recent study, pages with meta descriptions get 5.8% more clicks than those without a description. So it's important to have keyword-rich, highly relevant meta descriptions for pages that you want to rank and searchers to click on.
In Squarespace, both "SEO site description" and "SEO description" are the same as meta description. The distinguishing factor is, SEO site description represents your homepage, while the SEO description represents all other pages. SS probably differentiates between pages for better user comprehension, but in SEO, meta descriptions on all pages are treated the same.
In Squarespace, you must manually add the SEO site descriptions and SEO descriptions, or that content will be missing. As above, meta descriptions affect CTR for your web page, so it's best practice to add them for every page.
Some templates in SS also have "page descriptions", which appear as on-page text and will show up in search results as the meta description for that page. Not all templates have page descriptions, so check this table to see if yours does.
Website Navigation: Building a Site Header
SS uses the term "header" and "site header" to describe the on-page navigation, which should not be confused with page headings (h1). This is where your site title, logo and website navigation will live, including links. In SEO, the main navigation should be clear, concise and intuitive. The more easily a visitor can navigate and find what they're looking for, the better the overall experience and more likely they will return to your website. You can read more about website navigation basics here.
SquareSpace SEO Words to Know
For reference, I have created a table of "SquareSpace SEO" terms and their SEO industry equivalent (or close match). These are all the Squarespace terms we've covered in this post.
| | | | |
| --- | --- | --- | --- |
| SquareSpace (SS) Term | SEO Term | Where it appears | Meaning |
| Site title | Title tag | At the top corner of each page. It also appears in the browser tab and can appear in search results page | This is the name of your website homepage or main page. It is also the search results title by default. This can be text, a logo or thumbnail image file |
| SEO title | Title tag or Page title | In the search results page and browser tabs (if the user adds it) | This title replaces the site title when you want different text to show in search results. You can add this to all pages on your website. |
| Page title | Title tag or Page title | *some pages at the top of page | For *some templates, this shows on individual pages and in search results if there's no SEO title assigned |
| Heading tags | Headings, Headers (h1, h2, etc.) | On-page at the top of page (e.g., blog post title) | Headings are the on-page titles that also show up in the page source code as <h1>, <h2>, etc. They help visitors and search engines understand the page content |
| SEO site description | Meta Description*homepage* | Search results page | Short description that appears in search results that says what that page contains.*in SS this is only for the homepage* |
| SEO description | Meta Description *all pages* | Search results page | Short description that appears in search results that says what that page contains*in SS this is for individual pages or collection pages (products, blog posts, etc)* |
| Page descriptions | Meta Description*on-page description* | On-page content andsearch results page | On-page description on individual pages, this will also appear in search results if SEO description is not added*in SS only some templates have this feature* |
| Header (Navigation) | Navigation BarorMain Navigation | On-page, usually at the top | This helps website visitors find what they're looking for on a website. It usually includes anchor text/links to other pages on your website |
There are many other facets of SEO that aren't covered here, but I hope this helps users better navigate Squarespace and improve their website visibility.